Welcome!
Order Healthy Indian food online from Annapoorna Restaurent. Annapoorna is a premier indian restaurent catering to functions, corporate meeting venues and unique events in southern california region.
We serve authentic Indian food with the use of the typical Indian spices. The restaurant has a predominantly Indian decor surrounded by wooden carvings on the walls under a huge dome in the centre. There are silk paintings hanged on the walls which together depicts the royalty and culture from the Moghul era.
The menu is quite extensive with the varieties from all over the India, including the mild- 'Khormas' to the spicy taste of- 'Vindaloos'. The speciality being the tandoori dishes, in which the food is grilled inside an earthern clay pot oven- Tandoor, which is fired with charcoal to give the actual grill taste. The tandoori meat tikkas (chicken, mutton or fish) are very tender and succulent, all thanks to the well marination. The meat comprise of the chicken and mutton which are 'Halal Meats'- suitable for the Muslim consumption. Even the Indian breads are grilled inside the Tandoor, which comprise of Naans, Rotis, Kulchas or Parathas- Should not miss to taste the stuffed ones.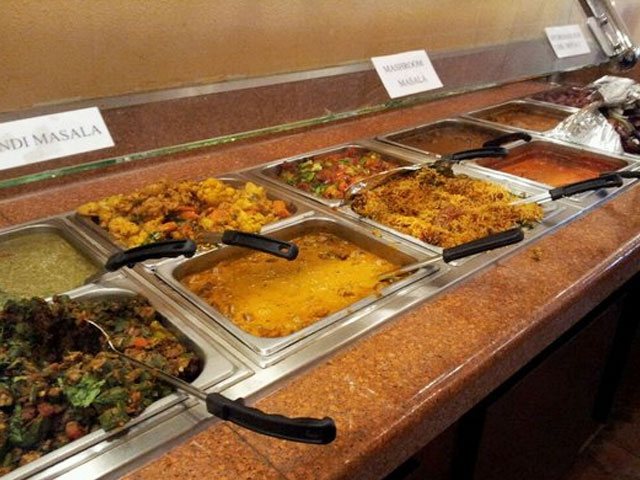 Join Our
Annapoorna Restaurant Vip Club
What Our Clients Say
The variety and quality are superb. Very few places offer all-you-can-eat goat curry, chicken tikka masala, and mango pudding. I've been to numerous Indian restaurants where the lunch buffet lacked either variety or quality, but this place easily excels in both.


Wesley N.

It was my first time trying the Chicken Butter, normally I always go for the chicken tikka masala. I can now say that the Butter Chicken is my favorite dish!


Daisy F.

I love Indian food. Furthermore, I've been spoiled by some really good Indian cooking having lived in NYC. This place offers absolutely delicious Indian dishes for a great price. The cleanliness and atmosphere are great. Highly recommended.


Ramy V.